This post may contain affiliate links. This means if you click on the link and purchase the item, we may earn a commission. at no extra cost to you. Thanks.
We have to adapt ourselves to such situations which will bring more happiness in our life. Experiencing happiness and knowing ourselves is the essence of life for us. There is no person who does not have any problems in life, apart from being a woman, I am also a mother. I have learned to be happy, and understand and recognize relationships in life.
Positive thinking helps power to be succeed
We have to try to control our thoughts. We have to feel good, be happy, and have hope in mind, so we have to keep positive thinking. It is very important to generate good thoughts in life. That's why you have to focus your attention on positive things in life. As I focus my attention on good books so that positivity can arise in me.
Best ways to bring more happiness in life
We have to be happy, this life is given to us by God and there is nothing that we cannot do. We have to find ourselves and fulfill our desires. In order to find something we like, we have to find what we like. This is not the end, it is just the beginning of life. Let us now take our thoughts on our lifestyle and know-how we will bring more happiness in life.
I am writing down some tips to help you fill more happiness in your life. These are easy and feasible solutions that you can easily use and feel joy in life.
Read your mind
You have to read your mind first so that your mind will be aware of the truth of life. This is where the base of our search begins. This will make you realize your desires, all you have to do is choose positive thoughts, and live them every moment.
listen to your heart
Listen to your heart and choose your happiness in whatever is in it. You cannot run away from yourself, the relationship is priceless but you cannot keep yourself in despair for the life God has given you. Think if you see yourself happy, then how many such relationships are near you that are happy in your happiness? You got my point. 😊
Live with passion
My curiosity is that I can fulfill every dream of my life, see nothing is impossible. You can do everything that someone else is doing and you too can enjoy all those pleasures of life, all you have to do is live your life with enthusiasm in a positive way.
Where to find positive thoughts to Bring More happiness
There were many paths, but now we have reached the destination. Every step we walk together and now the destination has been reached. They used to ask where will happiness be found, I say we reached here together. Tell me, is this happiness less than anyone?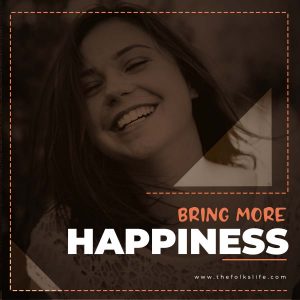 We can find positive thoughts for ourselves in books, we can make best friends who rejoice in our happiness and we in theirs. Friends whose thoughts matter to us. We have to live in such an environment that gives strength to our souls and arouses desire in our hearts. Maybe even love, yes the love that teaches us to live and slowly comes in our ears and says that I am the only one whom you are looking for. I am your moment which has brought more happiness in your life.